It's that time again! Welcome to the 4th week of the "Sit and Relax Weekend Hop"! It's time to sit back, sip on your favorite drink and meet some new friends!! Thanks for stopping by!
This is a No Rules bloghop! Well, actually, there is one rule. Check out this week's featured blogger!!
Here to introduce herself (virtually) is Rebecca from
I'm Rebecca *smiley face* I'm an artist working full time at one job and also having a full time freelance job as well. Juggling two careers plus being a mommy and wife, my life becomes hectic very quickly! I love being creative. I love art (since it is my passion). I also spent my time at art school teaching piano lessons. I love all the arts. My hubby is an artist too *more smiley faces*
I have one daughter named Natalya (she was actually named after a character in a video game) and she makes my insane days even more insane! But in a great way though.
I love blogging. Not sure how or why I got into it but now I completely am addicted and try so hard to find time to get things in even if it is just simple posts. Blogging is a whole different world and I love all the people's blogs I have ran across and can't wait to find new ones as well.
If you'd like to be next week's featured blogger, all you have to do is link up with us! But, you get 5 extra "entries" into the Featured Blogger drawing if you grab my button! Make sure you put it somewhere I can find it on your blog. The featured blogger gets to introduce herself during the hop and gets a spot on the sidebar under the title "This Week's Featured Blogger" for the whole week! As always, I try to visit everyone on the linky to show them a little bloggy love!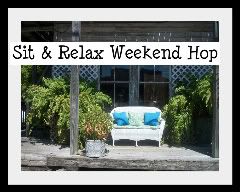 Here's another weekend hop that goes all weekend!
Don't forget to enter our Giveaway!!! $15 to Sassy Girl Hair Accessories! Giveaway ends this Saturday night the 14th at midnight EST! You can enter
HERE