This Giveaway has ENDED. Thank you to everyone who entered!
If you've been to my blog before, you know I LOVE photo memories. My family and I have our photos done every year. Every. Single. Year. It drives the hubby and kids crazy, but our extended family loves receiving the photos each year. . . . although I still haven't given them last year's!!! Bad Quirky! I also love taking photos when we're on vacations. Who doesn't, right??? I'm a sucker for a memory. I don't believe in living in the past, but there's just something about remembering the good times, especially if it's an activity that you don't do every day, or a place that you don't visit every year.
***Disclosure: I was recently given the opportunity to try out a custom metal print from PrestoPhoto for FREE. All Opinions are 100% mine. They are also allowing us to host a giveaway to give one of our readers a $50 credit toward Custom Wall Art. ***
GIVEAWAY is BELOW the Review. Enter in the Giveaway Tools Widget Below!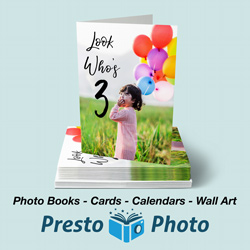 PrestoPhoto was originally a photo book printing company and they're expanding into Custom Photo Wall Art. They now have Canvas, Metal and Acrylic Wall Art.
They come in a lot of different sizes to choose from.
Canvases come in 3 styles: .75" & 1.5" Gallery Wrap Canvas Prints OR 1.5" Gallery Wrap Faux Canvas Prints.
They range in size from 8" x 12" for $24.99 - $28.99 to 40" x 40" for $159.99 - $169.99.
Acrylic Prints come in sizes from 8" x 8" to 24" x 36" and prices range from $26.99 to $168.99
The Metal Prints, which was the product that I was able to try, range in size from 8x8 to 24x36 and are priced from $24.99 to $152.99.
Ordering was a snap and only took me a couple minutes to do once I figured out which photo I wanted to use.
The Metal Prints come in these two types:
.18" Ultra Gloss Panel ~~ Ideal for photographs and full color artwork.
.125" Brushed Matte Metal ~~ Ideal for line art and graphics. White in the photos will appear as gray. Photographs will have a more "artistic" look.
Once you create an account, which is easy, of course, the images you've used before will be saved.
To begin a project, choose what you would like to create.
You can choose which orientation you would like from Landscape, Square of Portrait and then choose which size you would like.
Uploading photos is easy and you can upload from your computer or Facebook, Instagram, or Zenfolio (I have no idea what that is, so I couldn't test it!)
Once you have your image uploaded, you can crop it or add text. I didn't add any text to my original photo, because when I made it, I didn't actually realize that adding text was an option. I discovered that feature when I was playing around a little more.
I placed my order on November 3rd, and received it on November 8th.
I ordered my photo in the Ultra Gloss Panel, because the photo I chose was pretty washed out from the fact that it was hazy and bright (yes, at the same time) at the Grand Canyon. I thought that if I did the brushed metal it might make it even more washed out.
The photo looks beautiful on the Ultra Gloss Panel and it's a wonderful memory that all of us will cherish forever.
The Metal Print came wrapped on one side with bubble wrap and attached to cardboard. Mine came completely intact with no problems.
There is a hanger on back and it also has 2 square "bumpers" so that it sits level on the wall.
If there is anything that I would change about the print, it's the hanger. I wish that it had the jagged edge the way some hangers do because I was having a hard time getting it to hang straight. Plus, the nail or wood screw that you hang it on has to be the exact perfect depth in the wall to get it to hang correctly.
Since I am just going to sit it on our gallery wall shelf, that fact is not a big issue for me.
Right now on the PrestoPhoto website, they have a coupon code available to celebrate the fact that they are now offering wall art! I'm not sure how long the code will last, but this is what the coupon notice says:
Save 20% on your first order! Enter
PRESTOWALLART
during checkout to grab this sweet deal.
Now, my dear friends~~~ on to the GIVEAWAY!!!
PrestoPhoto is offering a $50 credit to one lucky winner. $50 credit can be used toward the winner's favorite Custom Wall Art.
You can fill out the Giveaway Tools form below to gain entries into the Giveaway.
Giveaway will run from Saturday November 11, 2017 to December 2, 2017.
Open to US residents who are 18+.
This post contains affiliate links. If you shop through these links, I will make a small percentage.😍 This post might be linked to any one of the parties listed on my
Link Parties and Communities Page