There may come a time in your property ownership life when you have to put into place some renovations. It might be that you have bought a property specifically for this purpose. Many people consider doing that as a way to make some extra money from their home. However, you could also consider moving into a property that needs some work. Sometimes doing this enables you to afford a
bigger home
or a property in a nicer area due to valuations and property prices creeping up. Whatever your motive is, flipping houses, and renovating is not something to go into lightly. Here are some of the things you need to consider when renovating a property.
The plans you want to make
First of all, you need to consider what you want to do. You might have plans to extend, and make the floor plan different. You might just want to change the use of a room, or it could be a as simple as refreshing kitchens and bathrooms, or a little more complicated, like changing electrical or plumbing. You need to know what you want to do, so you can make decisions on some of the other factors before getting started on the work itself.
The budget you have for the work
The next thing to consider before actually doing any work is to think about the budget you have. You may want to get some quotes for the work initially, so you have an idea what your plans and aspirations will cost. Knowing the costs could help with your decision making process, to decide which projects you end up doing. Once you know your budget, you then need to make plans to stick to it. Allocating money for labor and materials will help you stay on track. Don't be like one of the 41% of people who went over their home remodel budget in this survey.
Whether you have the right regulations and permissions in place
Knowing what you want to do, and having the money to do it, is only half the battle. You also need to ensure that you have the right level of regulations in place, and permissions in order to do the work you want. A great tip is to get companies like
UltraSound Home Inspections
to take a look, to offer advice, and help you get the right type of regulations in place. This will help you avoid any issues that could be costly along the road of renovations once work starts.
The time it can take to complete a project
Having everything in place is a great position to be in, so you now need to be aware of the time it will take to complete the project. It is also worth remembering that you can come under fire with certain issues, so time will need to be flexible, just in case. You can check out the chart below to see the average times it takes to complete certain projects.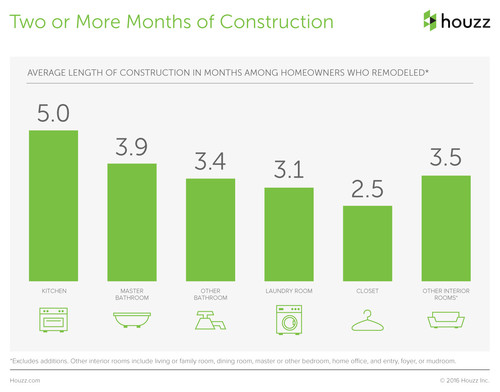 Not letting the stress get to you too much
Finally, the
stress
that renovations can cause can be extreme, and can be even more stressful than when buying and selling a home, so try to remain calm. Having all the right plans and exploring all your options will help you to feel in control. And if you're doing a lot of the work yourself, even though you have a timeline, don't be afraid to take a night off. Everybody needs to take breaks sometime and it will allow you to begin again with a fresh perspective.
I hope that these tips help you when renovating a property.
This post might be linked to any one of the parties listed on my
Link Parties and Communities Page